DEWA announces early bird registration for MENA Solar Conference 2023, extends paper submission deadline
12 May 2023
4 Min Read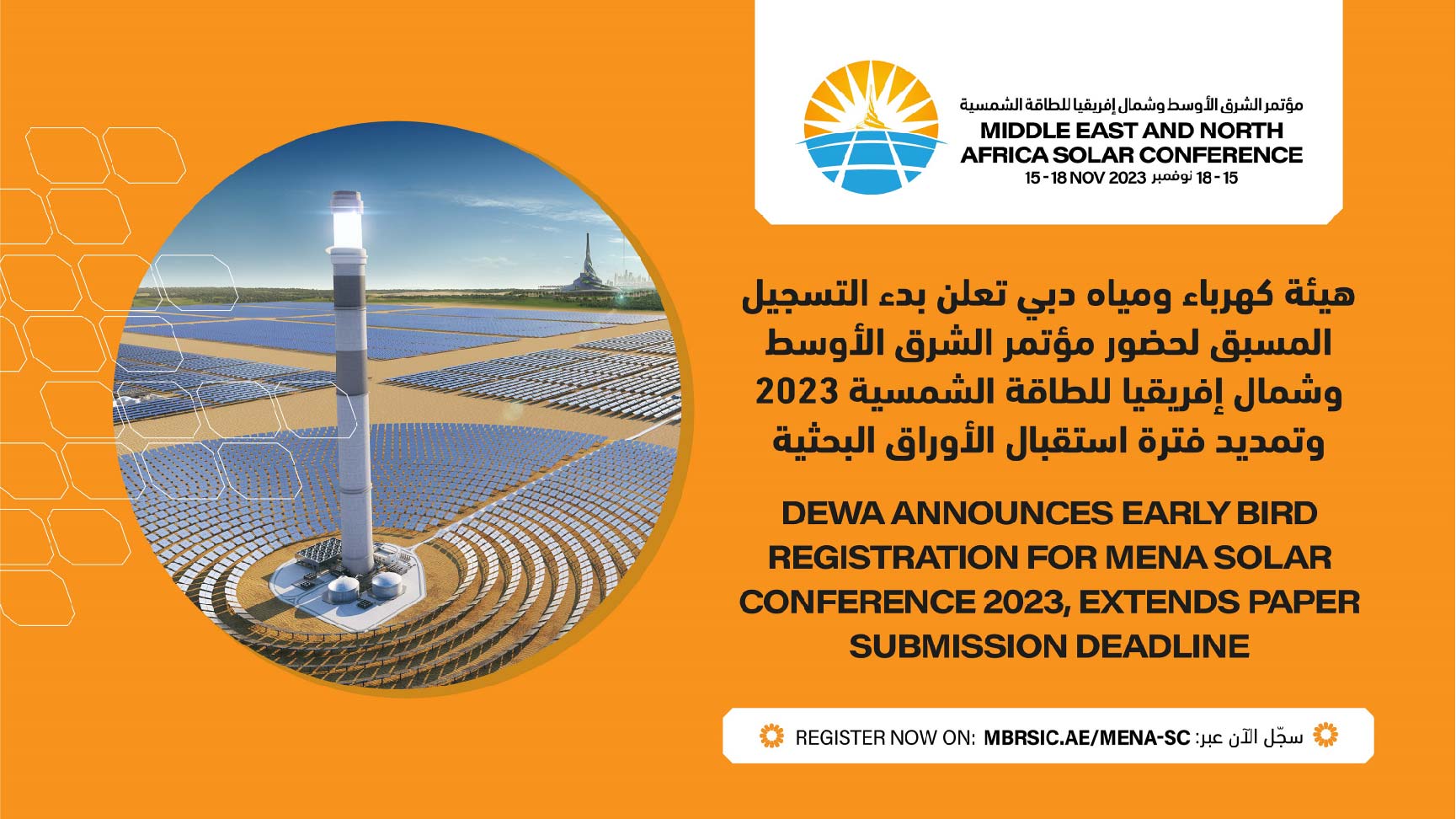 Dubai, UAE, 12 May 2023: Dubai Electricity and Water Authority (DEWA) has started early bird registration to attend the MENA Solar Conference (MENA SC). DEWA invites those interested in registering to participate in specialised panel discussions and innovative seminars at the first MENA SC 2023, and to benefit from the early registration discount until 31 July 2023.
The conference, which is organised by DEWA from 15 to 18 November 2023, will feature prominent experts, speakers and researchers from around the world. DEWA has extended the paper submission deadline until 1 June 2023, to allow more researchers and scientists from around the world to submit their papers for presentation during the first scientific and technical conference of its kind in the region on solar energy systems.
MENA Solar Conference will focus on all areas of photovoltaic systems, devices and materials, future technologies, PV system reliability and prediction for performance evaluation. The conference will also cover operations of photovoltaic systems, concentrated solar power technologies, grid integration, and technologies that will accelerate the transition to green energy.
"DEWA is keen on staying proactive in organising unique global events and bringing them to the region, to enhance the participation of the MENA region in global climate action, shape the sustainability agenda, and pave the way for new opportunities for knowledge exchange, discussing quality developments and building bridges of communication. We hope the MENA Solar Conference, organised by DEWA, will become a global platform that enhances the momentum of climate action through innovations that enhance energy efficiency, support the transition towards a net-zero future, and meet the urgent need to overcome current and future challenges. Moreover, the conference supports our efforts to achieve the Dubai Clean Energy Strategy 2050 and the Dubai Net Zero Carbon Emissions Strategy 2050 to provide 100% of Dubai's total power production capacity from clean energy sources by 2050, and to consolidate the leadership of the UAE in global efforts aimed at addressing climate change, especially on the Year of Sustainability in the UAE. This year, the country is getting ready to host the COP28 by the United Nations Framework Convention on Climate Change (UNFCCC) in Dubai Expo City in November," said HE Saeed Mohammed Al Tayer, MD & CEO of DEWA.
"DEWA has extended the paper submission window until 1 June 2023, to allow more researchers and scientists from around the world to submit their research papers for presentation during the conference, and to exchange expertise on a wide range of topics, unconventional and new concepts for future technologies; silicon photovoltaic materials and devices; Perovskite and organic materials and solar cells; PV module and system reliability in MENA region; solar resources for PV and forecasting; and power electronics and grid integration," said Waleed Bin Salman, Executive Vice President of Business Development and Excellence at DEWA.
Those interested can submit their applications until 1 June 2023, to present their research papers and scientific discoveries during the conference through: https://mbrsic.ae/en/mena-sc. Those interested can register to attend the conference and benefit from the early registration discount through: https://mbrsic.ae/en/mena-sc/registration/