DEWA promotes the UAE's journey that is rich with sustainable practices
08 June 2023
4 Min Read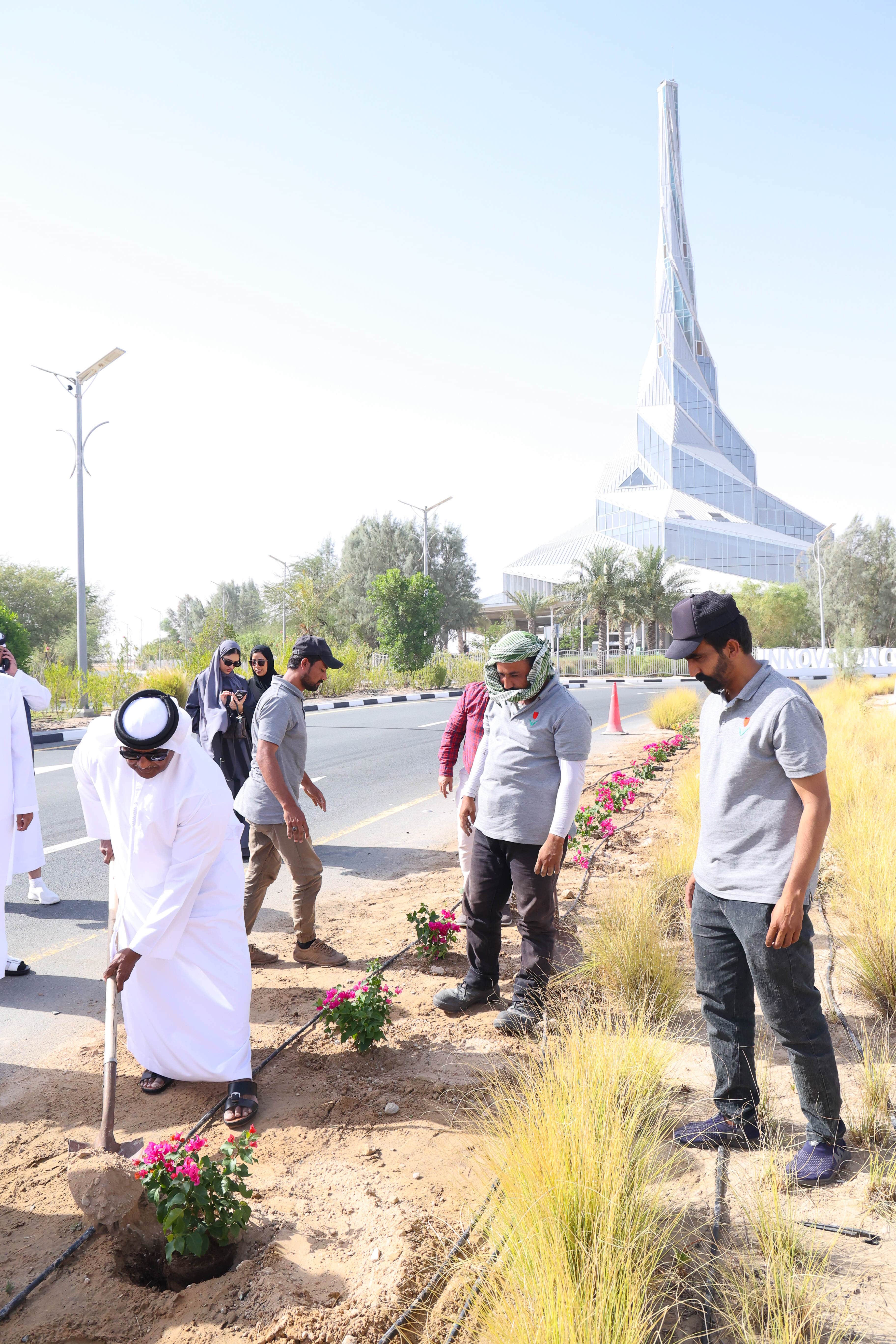 Dubai, UAE, 8 June 2023: Dubai Electricity and Water Authority (DEWA), in cooperation with the Emirates Marine Environmental Group, organised a campaign to clean the beaches of the Jebel Ali Marine Reserve. Several DEWA employees, their families, and employees of its subsidiaries participated in the campaign. This was in conjunction with World Environment Day 2023, which is observed on June 5 of each year, and is held under the theme #BeatPlasticPollution. DEWA also organised two awareness sessions, various entertainment and awareness activities on converting plastic waste into textiles, and ways to adopt daily sustainable practices and reduce, recycle and reuse plastic.
DEWA's Innovation Centre also launched a campaign to plant trees near the Mohammed bin Rashid Al Maktoum Solar Park. In addition, the Centre organised an awareness workshop in collaboration with Dubai Municipality Youth Council, to highlight urban farming for crops that thrive in the UAE climate, and the latest methods. It also showcased the importance of organic farming and ways to choose suitable soil and provide a sustainable and suitable environment for agriculture. DEWA also launched an awareness campaign on its internal channels and social media accounts, to encourage community members to reduce the use of plastic and recycling, increase the efficiency of electricity and water consumption, reuse resources and reduce waste, plant more trees, in order to preserve the environment and precious natural resources.
"We are working to consolidate the leadership of the UAE in climate action and biodiversity, as the UAE is one of the first countries in the region to pay great attention to protecting the environment and addressing the consequences of climate change by adopting green policies and launching pioneering initiatives in this vital sector, in addition to taking measures to address the root causes of plastic pollution and promote the transition towards a circular plastic economy. Our commitment to sustainability is an extension of the legacy of the late Founding Father Sheikh Zayed bin Sultan Al Nahyan, and in support of the directives of His Highness Sheikh Mohammed bin Rashid Al Maktoum, Vice President and Prime Minister of the UAE and Ruler of Dubai, for smart investment in our natural wealth to create a sustainable future for generations to come. We are keen to achieve the environmental, social and economic aspects of sustainability, to support the Dubai Clean Energy Strategy 2050 and the Dubai Net Zero Carbon Emissions Strategy 2050 to provide 100% of Dubai's total power production capacity from clean energy sources by 2050, and the 17 UN Sustainable Development Goals 2030. Among our most notable projects in clean and renewable energy is the Mohammed bin Rashid Al Maktoum Solar Park, the largest single-site solar park in the world, using the Independent Power Producer (IPP). It will have a production capacity of 5,000 MW by 2030," said HE Saeed Mohammed Al Tayer, MD & CEO of DEWA.
"In the Year of Sustainability in the UAE under the theme 'Today for Tomorrow', and with the ongoing preparations for the UAE to host the COP28 by the United Nations Framework Convention on Climate Change (UNFCCC) at the Dubai Expo City end of this year, DEWA is intensifying its initiatives and activities to promote the adoption of the circular economy model and its applications in various divisions of DEWA, and encourage community participation in achieving the sustainability of development," added Al Tayer.
To promote positive competition among its employees in recycling, DEWA launched an internal competition under the theme 'The Champions of Recycling' on World Environment Day that allow employees to record short videos showing the environmental practices they follow to preserve natural resources. DEWA also provides smart machines to recycle plastic bottles in some of its buildings. The employee receives points for each recycling operation, which are entered into a raffle draw to win valuable monthly prizes. Since installing the smart machines in October 2022 until the end of April 2023, DEWA's employees recycled 221,900 plastic bottles and aluminium cans, which were used to produce over 11,600 T-shirts and other products by a local company using sustainable manufacturing solutions.